SIPO (Smart Electronics Industry Promotion Office) started to promote car electronics SIG in 2011. In response to the trend of IoT, the name of car electronics SIG has officially been change to "Smart Car Electronics SIG" since this year. It is hoped that the connection between upstream and downstream companies of the smart car electronics industry in Taiwan can continue to be fortified to help Taiwan's semiconductor manufacturers obtain more opportunities to involve in the application of smart car electronics industry.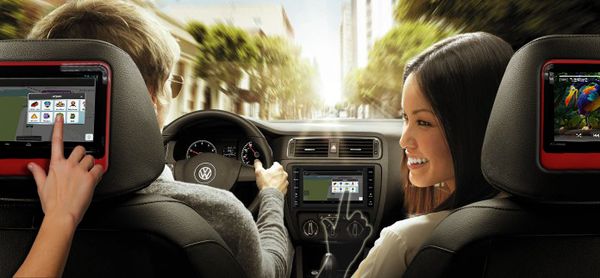 To showcase Smart integrations and applications from Taiwan's semiconductor manufacturers to overseas buyers and visitors, SIPO has organized a "SIPO Smart Living EXPO" pavilion at COMPUTEX 2016. There are three themes including Smart Internet of Vehicle, Smart Medical Electronics and Smart Home.
Advanced Driver Assistance System (ADAS) Solution from Industrial Technology Research Institute (ITRI)
Advanced Driver Assistance System that main purpose is to reduce the driver's negligence caused the accident. This system includes three features, Lane Departure Warning Systems (LDWS), Forward Collision Warning System (FCWS) and Blind Spot Warning System (BSWS). The advantage of the system is to use a single screen analysis can complete the object detection, so that fast processing, high stability and low memory usage is very suitable for embedded platforms. By the verification, three functions turn on simultaneously that still keeps real-time processing and high detection accuracy. This system is going to the field try phase, results show maintaining high accuracy in freeway, highways, urban roads, tunnels, and etc. In addition, testing scenario under different weather conditions, test results meet the company requirements that can help raise worldwide competitiveness.
SPHE6700 Highly Integrated ADAS SoC from Sunplus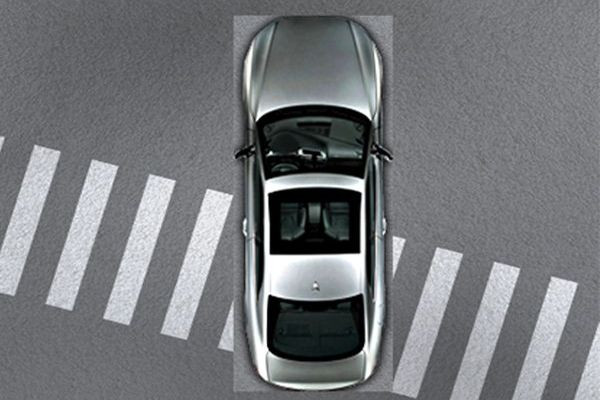 Sunplus SPHE6700 is a highly integrated ADAS SOC IC, it supports AVM (Around View Monitor, aka Surround View System), BSD (Blind Spot Detection) , FCW (Forward Collison Warning), SLD (Speed Limit Detection), DDS (Drowsy Driver Detection), TLD(Traffic Light Detection) and other ADAS functions.
SPHE6700's mature AVM algorithm and calibration tool can save your implementation cost and effort. SPHE6700 supports SD, HD, 2D and 3D AVM with the same platform. High flexibility fulfills the market demands. The operating temperature of SPHE6700 is between about -40~85 degree Celsius, to meet Industrial grade and fits OE (Original Equipment) and AM (After Market) market.
Automotive Radar Sensor AMS-R208F from Alpha Networks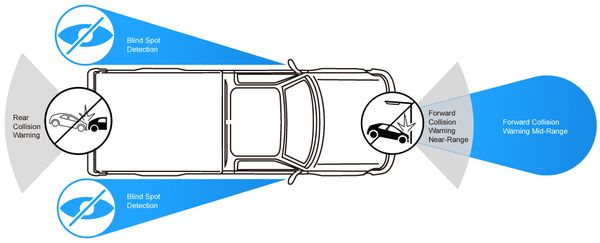 Alpha Networks' AMS-R208F is an advanced and high value radar sensor in multiple applications of vehicle driver assistance, which is offering a complete solution for near and mid-range automotive and transportation collision warning systems.
AMS-R208 can detect presence and accurate measurement of speed and distance, supports different use cases through customized software algorithms. It is robust and resistance to vibration, reliable performance in extreme environmental conditions such as rain, snow, ice, salt, fog, dust and harsh temperatures.
The AMS-R208 is a small form factor, compact and robust which can be easily installed onto different areas of the vehicle without compromising vehicle styling.
S.T.A.R. Around View Monitoring System (AVM) from Quanta Storage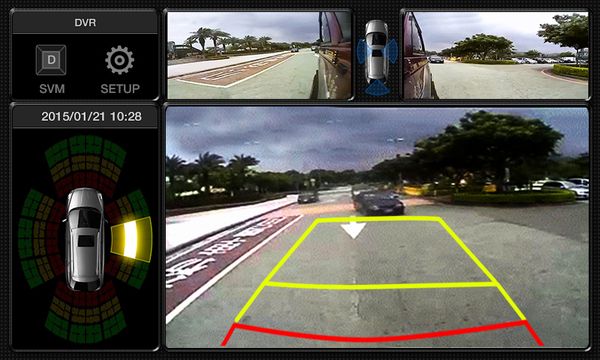 Considering both driving safety and assistance, S.T.A.R. AVM system from Quanta Storage becomes an essential application for truck. The initial letters of S.T.A.R. perform the following functions:
1. Safety driving: With the application of the millimeter wave radar, the accuracy of detecting blind spot is significantly improved.
2. Telematics: As if a black box, which can not only be installed easily but also combine all the major functions in one single box. Apart from that, 3G/4G Wifi is included.
3. Around View Monitor: 360゚high definition around view monitoring solution can be realized with 4 channel Most 150 HD Camera (support maximum 8 Channels).
4. Recording: Whilst driving, driving courses will be recorded constantly and can be traced.
With S.T.A.R. AVM, your drive is not only safe but also smart.
The Origin & Transformation of SIPO
On April 16, 2002, the Executive Yuan asked the Ministry of Economic Affairs to establish the "Semiconductor Industry Promotion Office (SIPO)" to coordinate, plan, promote and augment the development of the semiconductor industry in Taiwan.
In the past, the Semiconductor Industry in Taiwan aimed mainly at the promotion of IC fabrication and package industry with high production value; and the current development in this regard has reached the maturate stage. In order to help the industry for transformation to maximize the effects of high added value, the Industrial Development Bureau (IDB) has planned to promote the development of IC design in new application area, develop the electronic technology in the application areas of MG+4C (medical, green, automobile, computer, communication and consumer) and IoT applications, and strengthen the integration and application service of system end so as to upgrade the value of industry.
To help the industrial transformation and maximize the effects of high added values, the IDB had a careful series of evaluations and decided to turn the direction of business scope and work priorities toward "smart electronics industry." Hence, the "Semiconductor Industry Promotion Office" was renamed officially as the "Smart Electronics Industry Promotion Office (SIPO)" on Jan 1 2012. SIPO will be leading the IC industries toward the development of new, rising application areas of MG+4C(medical, green, automobile, computer, communication and consumer) and IoT applications.
SIPO Smart Living EXPO Contact Information:
Contact: Smart Electronics Industry Promotion Office (SIPO), IDB, MOEA
Address: 7F-1, No.380, Sec. 1, Fuxing S. Rd., Da-an Dist., Taipei City 10656, Taiwan (R.O.C.)
Tel. #: +886-2-2706-9258; Fax #: +886-2-2704-9191
Email: This email address is being protected from spambots. You need JavaScript enabled to view it.
Website: http://www.sipo.org.tw/Eng/
Location: TWTC Nangang Hall 1, 4F
Booth No.: L0826