To help the industrial transformation and maximize the effects of high added values, the Industrial Development Bureau (IDB) has established the "Smart Electronics Industry Project Promotion Office (SIPO)" on Jan 1, 2012.To showcase smart integrations and applications from Taiwan's electronics manufacturers to overseas buyers and visitors, SIPO has engaged in COMPUTEX since 2016 and generated a lot of positive feedback from visitors.
This year, SIPO invites 9 companies to set up a collective booth "Smart Living Pavilion" which comprises Smart cars, Smart medicals and Smart home (Booth number L0432). This pavilion would assist IoT application vendors to gain publicity, impress good image, and help in showing vendors level of professionalism of smart technology.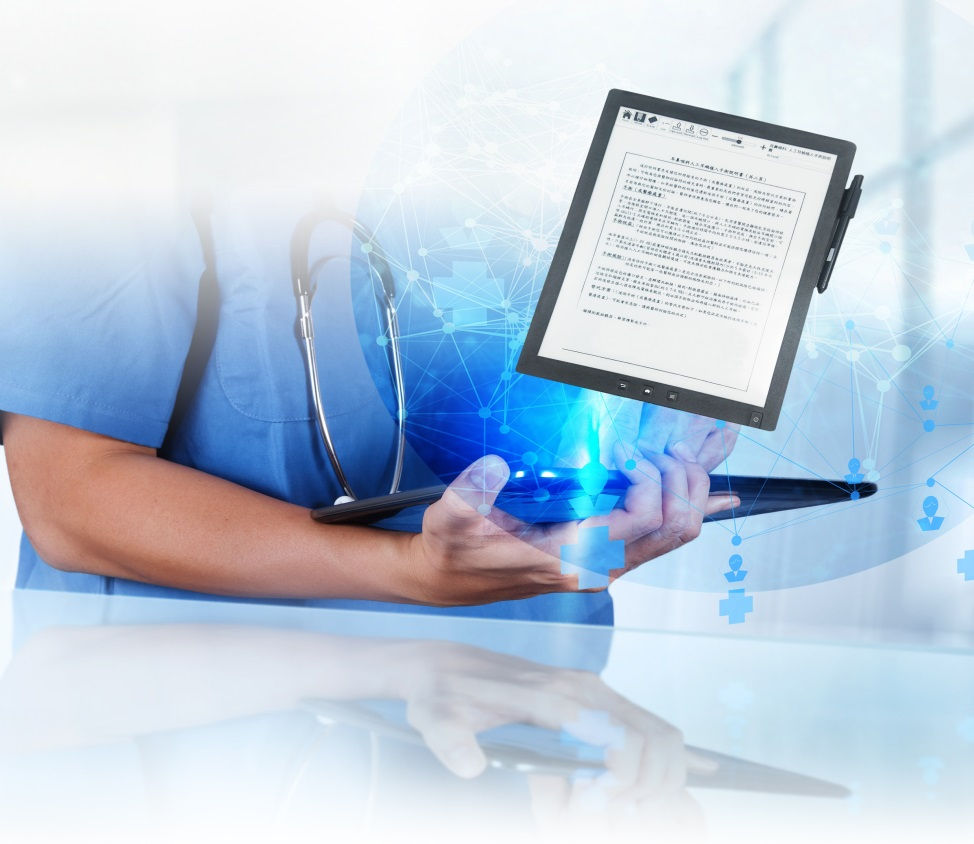 There are 8 products form 5 electronics companies in the smart medicals display area.
1.imedtac Co. Ltd.
iMSignatue e-Form Platform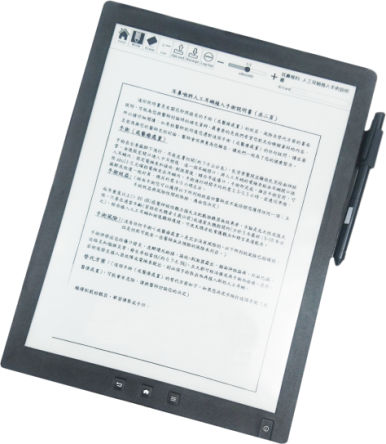 1. The e-paper is light and slim, easy to carry, realistic paper vision and writing feel.
2. Digitize the paper document to implement the paperless management; no need to print out or carry heavy documents, don't even need to store them in a physical space, e-paper can save manpower and space.
3. With 13.3 " e-paper and exclusive APP client and an electronic form management system in the cloud, users can sign/upload the forms in real-time and storage/access the e-form easily.
4. The e-forms will be time-stamped whenever they are archived, that assume the non-repudiation and reliability.
imedtac Co. Ltd.
iM-VS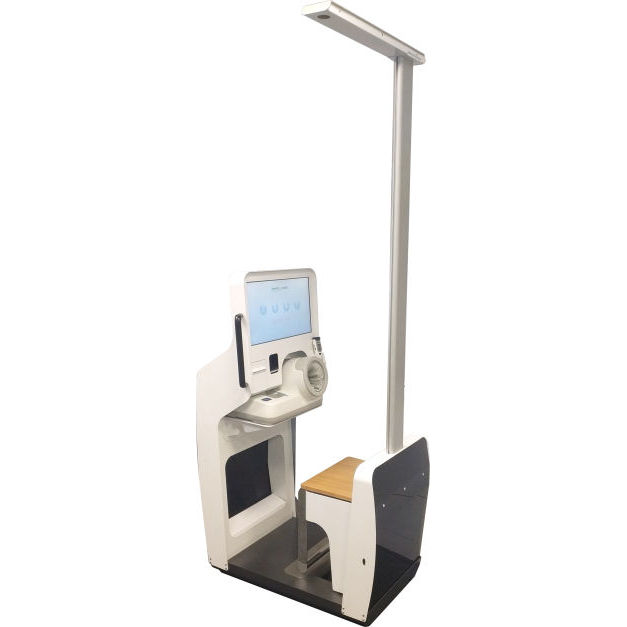 Image interface & Voice operating guidance.
Combine health education video.
Integrate blood pressure, weight, height and body temperature.
Can upload data to HIS & Track history record.
imedtac Co. Ltd.
Smart insole and gait measurement solution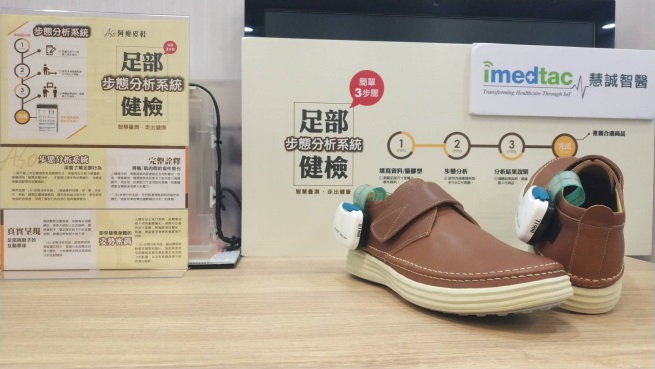 The smart insole and gait measurement solution can detect the foot pressure distribution and movement of CoP (center of pressure)in real-time. The physician and therapist can use the solution to evaluate their patient in a digital data visualization way in order to build a new standard of rehabilitation treatment.
The digital data from the solution can be used to do the precision medicine and make a customized insole. The smart insole and gait measurement solution is an easy-use and low-cost way to evaluate patients, and provide a better and intelligent solution that can be utilized in hospital, rehabilitation center and shoe industry.
imedtac Co. Ltd.
iMattress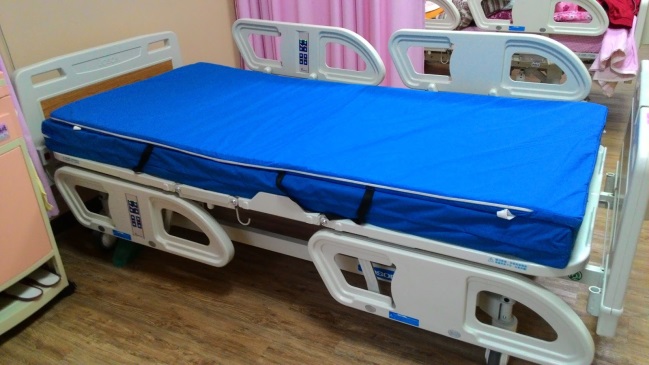 「iMattress」 is an advanced in-bed monitoring platform designed to improve quality of care and reduce the work load of caregivers.
Through multiple motion sensors embedded inside the medical grade mattress, every in-bed motion will be continuously tracked and analyzed. Alerts sent to caregivers for actionable events such as bed exit, re-positioning, and abnormal heart/respiration rate. These functions can all be done without any wearable device.
With iMattress wireless network design, it is easy to install the system in a different environment and the system structure can be stand-alone or cloud-based management depends on the needs of information security.
2.Protectlife
AmiShield Veterinary Clinical Analyzer/ ENNOLIFE Clinical Analyzer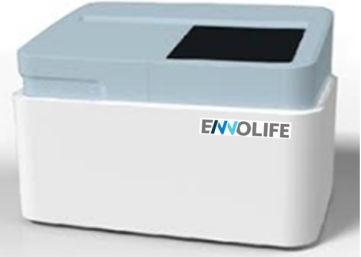 (1) Empowered by a cutting-edge spectrum technology, AmiShield is the most extensible veterinary clinical analyzer capable of detecting biochemistry, electrolyte, and immunology parameters. 60μL blood sample needed and simple test steps.
(2) ENNOLIFE Clinical Chemistry Analyzer has multiple functions and multiple applications such as liver, kidney, diabetes, lipid, pesticides, waste water, etc to keep a very serious eye on human's health conditions.
3.MiTAC Digital Technology Corporation
Mobile Nursing Information System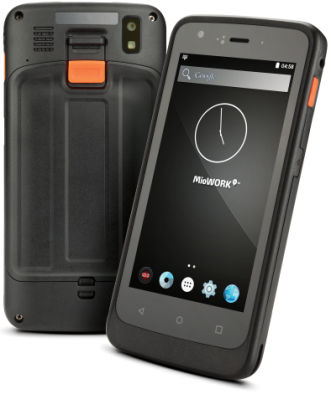 The mobile nursing information system (MNIS) is based on the whole process of caregivers' care of patients. Through wireless technology, the mobile device is used to check and accurately every aspect of the medical record. The MNIS not only improves the accuracy of checking and recording, facilitates medical professionals' recording work, but also provides basic and accurate data for nursing performance assessment.
Key Function:
1. Pre-operational checkups: Including patient's wristband scanning and other related implementation items such as medicines, various tests, inspections and treatment items, etc
2. Medical record execution record: All doctor's orders need to have accurate records of executives and execution time, which is not only the requirement of medical norms, but also the need for performance evaluation of nursing care.
3. Records of other nursing documents related to the execution of a doctor's orders: To implement the full cycle management of the doctor's implementation process.
4.Unitech Electronics Co. Ltd.
HG700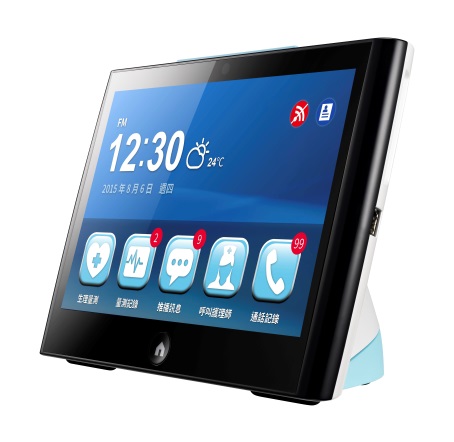 Featuring vital sign auto transmission, online intercom, real-time emergency call, online video education and remote care management, HG700 offers 3G / WiFi networks which enable users to get connected with the care team. Based on Android platform, it supports RFID and IC Card sensor that gives multiple users to simply access their personal belongings without complicated processing. Moreover, this device is available to collect vital signs from other devices such as blood pressure meter, glucose meter, oxy meter and thermometer via Bluetooth and auto submit vital sign data to their care team.
HG700 has stood out for being elegant design and easy to use. It is combined with a round curved product stand and a touch panel for convenient setup. With just a few simple taps on the screen, patients can start to do video communications with their healthcare providers, detect and submit their vital signs to the cloud. The HG700 are engineered with industrial grade materials, it is rugged enough to drop from the 0.9M onto concrete. It has IP65 rating for resistance to dust and water together with a huge operating temperature range of-10°C to 50°C that delivers a safe platform and suitable for all environments. These technologies enhance the management of elderly and chronic diseases people who receive the majority of their care at home, community, and institutions.
Feature
• Support Ethernet, 3G, Bluetooth 4.0, 802.11 b/g/n wireless communications
• Built-in RFID Patient identification system
• Integrates with wireless Bluetooth vital sign devices
• Cloud-based healthcare platform: easy to track the healthcare status
• 2-way live video: Interactive communication service between care team and elderly
• Healthcare education videos delivering
• Emergency call button design
5.Etron Technology, Inc
Cyber6d-Vision&Sense Platform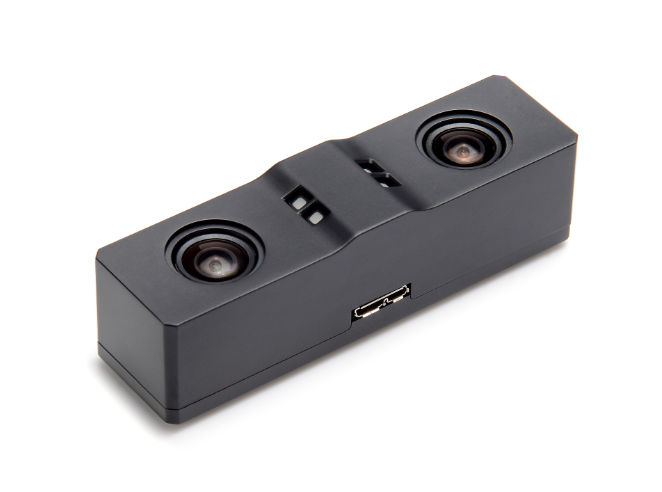 Cyber6d-Vision&Sense built upon 3D depth detection technology provides the ability to detect objects and surrounding environments, 3D images, depth-map, gesture movement, obstacle avoidance, etc. With key features Cyber6d-Vision&Sense including high quality, high transmission rate, special light source, and low power, the eSP876 provides the best depth-map images. It can be used both indoors and outdoors, in well-lit and dark environments, at distances ranging from near to far, enabling the first-in-class usability in unlimited application settings.
SIPO Smart Living Pavilion Contact Information:
Contact: Smart Electronics Industry Project Promotion Office (SIPO), IDB, MOEA
Address: 7F-1, No.380, Sec. 1, Fuxing S. Rd., Da-an Dist., Taipei City 10656, Taiwan (R.O.C.)
Tel. #: +886-2-2706-9258; Fax #: +886-2-2704-9191
Email: This email address is being protected from spambots. You need JavaScript enabled to view it.
Website: https://www.sipo.org.tw/Eng/
Location: TWTC Nangang Hall 1, 4F
Booth No.: L0432